Posted by Harvest Dream on Friday, January 1. 2010 in Arts, History , The Occult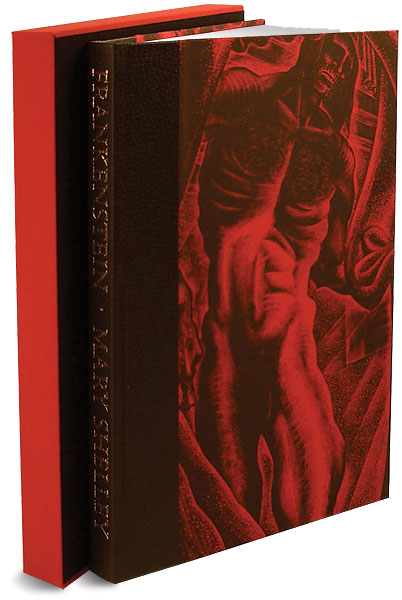 Source: The Free Dictionary
How I, then a young girl, came to think of, and to dilate upon, so very hideous an idea? - Mary Shelley

During the snowy summer of 1816, the "Year Without A Summer," the world was locked in a long cold volcanic winter caused by the eruption of Mount Tambora in 1815. In this terrible year, Mary Wollstonecraft Godwin, age 19, and her lover (and later husband) Percy Bysshe Shelley, visited Lord Byron at the Villa Diodati by Lake Geneva in Switzerland. The weather was consistently too cold and dreary that summer to enjoy the outdoor vacation activities they had planned, so after reading Fantasmagoriana, an anthology of German ghost stories, Byron challenged the Shelleys and his personal physician John William Polidori to each compose a story of their own, the contest being won by whoever wrote the scariest tale. Mary conceived an idea after she fell into a waking dream or nightmare during which she saw "the pale student of unhallowed arts kneeling beside the thing he had put together." This was the germ of Frankenstein. Byron managed to write just a fragment based on the vampire legends he heard while travelling the Balkans, and from this Polidori created The Vampyre (1819), the progenitor of the romantic vampire literary genre. Thus, the Frankenstein and vampire themes were created from that single circumstance.

Mary Shelley completed her writing in May 1817, and Frankenstein, or The Modern Prometheus was first published on 1 January 1818 by the small London publishing house of Harding, Mavor & Jones. It was issued anonymously, with a preface written for Mary by Percy Bysshe Shelley and with a dedication to philosopher William Godwin, her father. It was published in an edition of just 500 copies in three volumes, the standard "triple-decker" format for 19th century first editions.

Critical reception of the book was mostly unfavourable, compounded by confused speculation as to the identity of the author. Walter Scott wrote that "upon the whole, the work impresses us with a high idea of the author's original genius and happy power of expression", but most reviewers thought it "a tissue of horrible and disgusting absurdity" (Quarterly Review).

Despite the reviews, Frankenstein achieved an almost immediate popular success. It became widely known especially through melodramatic theatrical adaptations — Mary Shelley saw a production of Presumption; or The Fate of Frankenstein, a play by Richard Brinsley Peake, in 1823. A French translation appeared as early as 1821 (Frankenstein: ou le Prométhée Moderne, translated by Jules Saladin).


Quotes From The Book:


"You seek for knowledge and wisdom, as I once did; and I ardently hope that the gratification of your wishes may not be a serpent to sting you, as mine has been." Victor Frankenstein to Captain Walton, in Letter 4

"Man," I cried, "how ignorant art thou in thy pride of wisdom!" Victor Frankenstein to the magistrate, Chapter 23.


Frankenstein

Mary Shelley always maintained that she derived the name "Frankenstein" from a dream-vision, yet despite these public claims of originality, the name and what it means has been a source of many speculations. Literally, in German, the name Frankenstein means stone of the Franks. The word "frank" means also "free" in the sense of "not being subject to". Frankenstein is the German name of Ząbkowice Śląskie, a city in Silesia, Poland. There is a town called Frankenstein[3] and Burg Frankenstein[4] (Frankenstein Castle) near Darmstadt which Shelley had seen whilst on a boat before writing the novel. Moreover Frankenstein is a common family name in Germany. More recently, Radu Florescu, in his book In Search of Frankenstein, argued that Mary and Percy Shelley visited Castle Frankenstein on their way to Switzerland, near Darmstadt along the Rhine, where a notorious alchemist named Konrad Dippel had experimented with human bodies, but that Mary suppressed mentioning this visit, to maintain her public claim of originality. A recent literary essay[5] by A.J. Day supports Florescu's position that Mary Shelley knew of, and visited 'Burg Frankenstein'[6] before writing her debut novel. Day includes details of an alleged description of the Frankenstein castle that exists in Shelley's 'lost' journals.
Related link: Neurotic Poets - Percy Bysshe Shelley